The Unique Advantage
ONLINE EXHIBITION OF THE MOST ADVANCED AND INNOVATIVE WEIGHING AND MEASURING DEVICES 
Leading Suppliers and Exporters of Intuitive Ultra Precise Weighing Scales , Portable Laboratory Balances , Precision and Analytical Balances , Compact Scales, Counting Scales , Floor Scales , Platforms, Receiving Scales, Label Scales , Medical Scales , Weighing and Measuring stations with BMI , Infantometers , Baby Length Measuring Mats , Stadiometers and Portable Height Measuring devices form part of our comprehensive range.
We offer a range of products and accessories designed to fulfill your individual and corporate requirements.
Our objective : To make the weighing and measuring process noticeably easier with our range of ultra modern scales and innovative balances. From weighing newborns to physically impaired patients our range of products offer features beyond measuring .We stock many different but unique scales, customized to your special requirements with ultra precise weighing technology.
From the column scales line, Seca offers a broad range of highly accurate scales. With Seca column scales, doctors, nurses and aides can concentrate on the essentials – the care and well-being of patients. A column scale from Seca is equipped with impressive, high-precision measuring technology
So precise! When dealing with precise weighing, there is nothing that needs to be balanced: We show zero tolerance for deviations in the accuracy of the measurement results. 
Our range of ultra precise innovative balances are capable of delivering what you need . Beyond measure.
Added Value One Click Away ! The Future of Commerce – Visit our online store 
Baseline Scales ( Pty ) Ltd offers a unique online commerce system . Browse our secure showroom with no need to login or register and purchase a diverse selection of quality innovative weighing and measuring devices  – orders are processed on checkout with a choice of multiple payment options , shipping destinations anywhere throughout Southern Africa and Internationally .We offer guaranteed safety , security and one click commerce solutions when transacting on our secure encrypted server. https://www.baselinescales.co.za
Please note : Our preferred method of communication is electronic mail , when making contact , provide full company or individual details and relevant contact no.
We thank you in advance for your interest in our range of products and medical measuring devices , responses to e mail related enquiries are normally within 24 hrs .
( excluding Week –  Ends and Public Holidays )
*Disclaimer :
Checking the enquiry form box, constitutes my express written consent to receive phone call/s, emails and/or text messages from Baseline Scales , at the phone number(s) and/or email I have provided, regarding my enquiry.
Baseline Scales & Synchronised Weighing and Measuring South Africa https://www.swmsa.co.za
Baseline Scales ( Pty ) Ltd  The Future of Measurement ® Southern Africa 
Still unsure ? …. chat live with product specialist- get answers right away with our live chat feature .
How can I accurately measure the height of a person standing?
Height-measuring instruments from Seca make measuring easy, fast and precise. For more information on Seca products and support service, contact a support agent today ! or visit our dedicated Seca website https://www.swmsa.co.za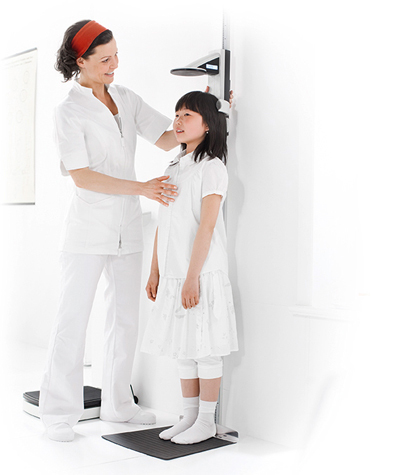 The patient stands barefoot (if possible) with his/her back to the wall.
With feet together, ensure the heels are touching the wall.
The body is erect and centered on the measuring rod.
Confirm the corner of the eyes and the top of the ears are level (Frankfurt Line).
To measure, the user places the headpiece against the scalp and locks it.
Tip: For accurate results – Ensure all hair accessories are removed prior to patient height measurement
Subscribe to Baseline Scales ( Pty ) Ltd.
Floor Scale Installation
Seca 769 digital colomn scale with bmi
Adam MDW Health and Fitness Scale